Smart home technology has come a long way from just being a cool invention. Smart tech has become a necessity for many consumers, so spending money on it as a gift doesn't seem out of line. If you're looking for gifts for the all the tech fans in your life this holiday season, check out this list of smart home products that are great gifts and employee favourites.
The best part? Many of these items are available from local retailers in Atlantic Canada. Let us know what you like, and we'll help you find it near you!
CHANGE THE ATMOSPHERE WITH SATCOS OUTDOOR STRING LIGHTING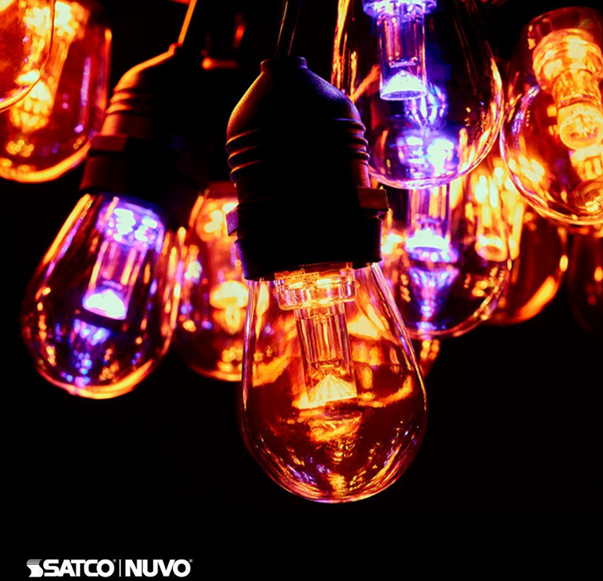 Brighten up any space with Satco's colour-changing and tunable white 24-foot SMART LED string light. The long-lasting, energy-efficient bulbs are perfect for indoor or outdoor use. Link up to three sets together to create up to 72 feet of dazzling light. Each 24-foot section has ten LED bulbs that save on energy consumption compared to incandescent bulbs.
The string of lights will provide year-round enjoyment in your bedroom, basement, gazebo, or patio. Replacement bulbs are sold separately in a convenient 2-pack so you can keep the party going all year long!
Through Wi-Fi, STARFISH™ synchronizes your life and your home using mobile and voice-activated devices. It is easy and convenient, and you can start with just one room! Create atmospheres, and spaces, define routines, set moods and more. Scale up as it suits your lifestyle.
STARFISH™ has been designed as an easy-to-use system that anyone can get started with in minutes. You can easily add new lights without having to upgrade your system or replace existing hardware. Simply install our WiFi enabled lightbulbs into any standard socket, connect them to STARFISH™ using our Wi-Fi hub and then download our free app from either Apple App Store or Google Play Store onto your device
DALS SMART HOME STARTER PACK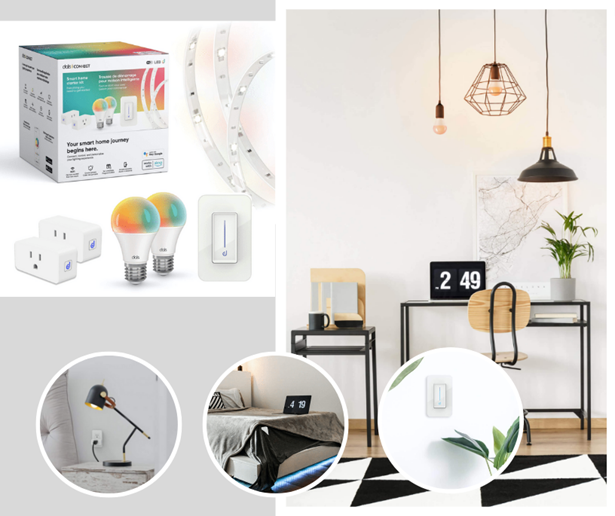 This comprehensive Smart Starter Pack has everything your gift recipient needs to dive into the world of smart lighting, making it the ideal starter kit!
The kit contains:
2 x A19 LED Smart Bulbs
2 x Smart Wall Outlet Adaptors
1 x 3 Meter Smart Tape Light
1 x Smart Wall Dimmer Switch
Through the DALS Connect App, everything in the box provides total flexibility of control and customization and connects quickly through WiFi without the need for a hub. compatible with both Google Assistant and Amazon Alexa. We adore the fact that you can select from 16 million different lighting colours and lighting scenarios to match the atmosphere or vibe! If you expect to be away from home over the holidays, you can even schedule your lights to turn on and off on the app.
GET PARTY READY WITH THE LED SMART TAPE LIGHTs FROM DALS LIGHTING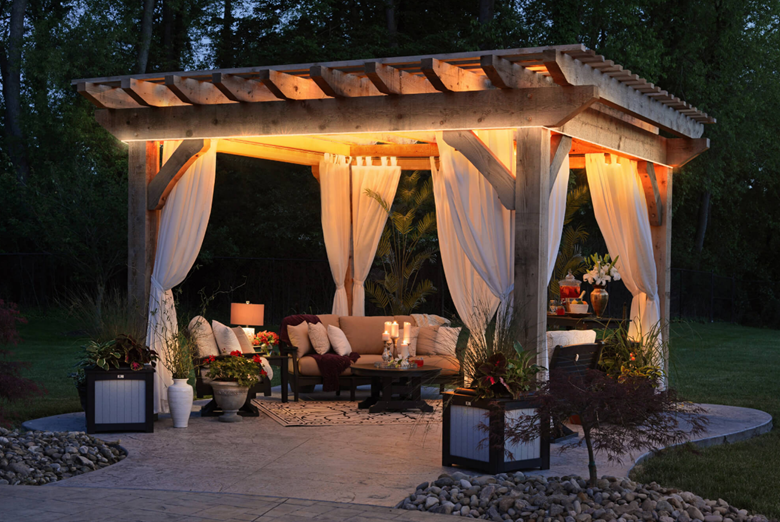 The popular LED tape light is a fantastic Christmas gift idea for people of all ages. There are really nowhere the Dals tape lights can't reach since it comes in indoor variants that are 1, 3, and 5 meters long as well as outdoor hub-less kits that are 24 feet long! The Dals tape light comes with a remote control and a free Wi-Fi app for your smartphone or tablet and is compatible with Google Home and Amazon Alexa. In his son's room, Eli installed a three-meter kit, and his son adores it. The family tablet has the app to control it, and the remote works perfectly.
These kits can be used to light up a home theatre room, stairs, a kitchen cabinet, or the area surrounding a doorway. The outside kit is ideal for building a patio, gazebo, or making your RV the most luxurious one at the campsite. Eli appreciates that these items are wirelessly extensible so that you can easily connect a number of kits to achieve the desired length while still being able to control them with a single app or remote.
The tape light may be synced with other color-changing Dals products, such as pot lights, flush mounts, and puck lights, in case you really want to take it to the next level!  Eli's teenage daughter has a 14″ flush mount, and she loves that she can use an app to alter the colours of her room!
SMART DIMMERS, SWITCHES AND OUTLETS FROM LEGRAND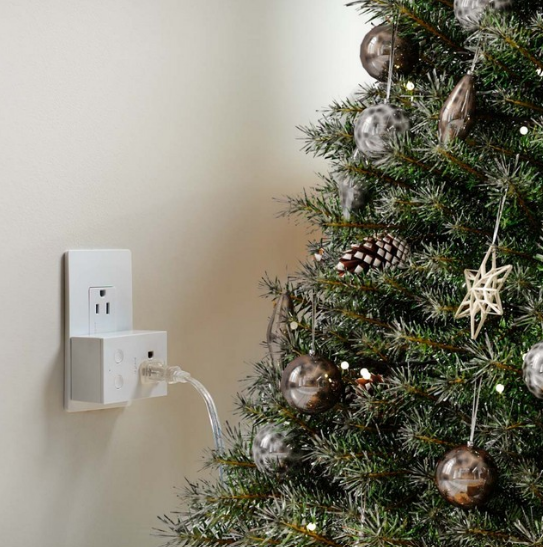 Optimized for whole-home control, Legrand's radiant with Netatmo dimmers, switches, and outlets are perfect for that special techie on your list. These smart lighting products require no additional hub so they're simple enough for even your technophobic uncle! The in-wall Gateway easily replaces an existing switch or outlet to provide a discreet hub for a home's smart lighting control.
Plus, with a variety of gateways, switches, dimmers, and outlets available – including battery-powered, wireless switches for easily adding 3-way control anywhere you want it – these solutions can be custom fit to your giftee's needs. Then simply connect with Amazon Alexa, Google Home, or Apple HomeKit, or integrate with home automation systems for next-level control.
The radiant with Netatmo solutions provide incredible visibility to a home's energy usage through the app, helping reduce energy costs and waste. How cool is that?
WIRELESS PHONE CHARGING FROM LEGRAND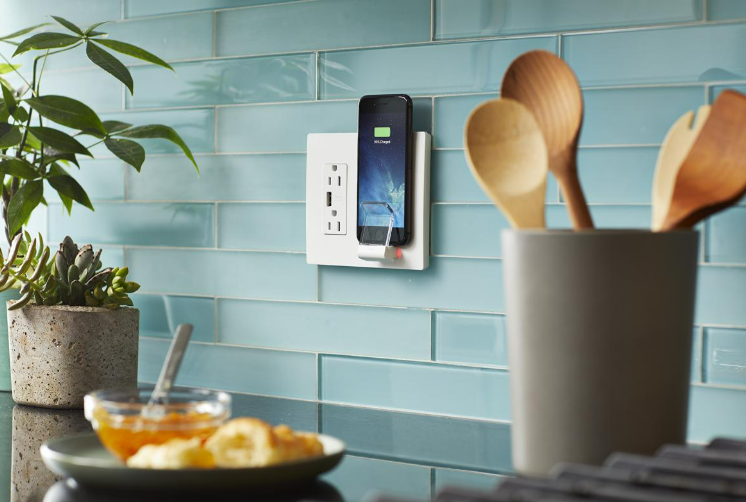 If you're looking for a gift idea that will be loved by everyone, look no further than a wireless phone charging mount. With the popularity of smartphones and tablets, it's no surprise that we're always on our devices. With all this time spent on our phones, it's important to make sure they're charged up so we can use them all day long. The only problem with that is that there are so many wires involved. It's quite messy trying to find the right cable to plug in, especially if you have multiple devices to charge at once.
With a wireless phone charging mount from Legrand's Radiant collection , you no longer have to deal with these issues. They offer a convenient way of keeping your device charged without having to deal with any wires. You just place your device in the charger and let it go!