Sponsored by Modern Komfort, a home-grown, Canadian-owned family business with storefronts in Fredericton, NB and Ottawa, ON, as well as an online store filled with everything you need to create the home of your dreams. Offering a carefully curated and inspiring selection of beautiful furniture, lighting, rugs and decor that mixes stunning modern aesthetics with the warmth, comfort, and durability of traditional styles. Passionate about creating beautiful spaces that work for the whole family, Modern Komfort has a range of modern transitional sofas, sectionals, beds, dining tables and chairs, rugs, art, lighting, and more to help you achieve your unique vision without sacrificing durability. Their friendly, knowledgeable staff are always happy to take the time to get to know your style and your interior design needs to help you find the perfect products for your space.
Every home build has a similar schedule, but in design, each project can take on a natural life of its own if you surrender to it. Location, elevations, windows, plumbing, flooring, cabinetry — the first steps in designing a custom home inspire all the next steps to come, but from early on in 2022's Boscobel on the Arm build, our lighting vision glowed in the periphery. 
Lighting finishes we picked early on would help finesse the way colour concepts took shape at this home, as we were quickly committed to using warm layers of cocoa brown, milky white, charcoal and putty for the floors, millwork and walls but knew we only wanted cool metals for fixtures and hardware. We love the tension created through integrating contemporary finishes like nickel, matte black and white plaster with the more traditional essence of fabric shades, fluted glass, and soft, fluid lines.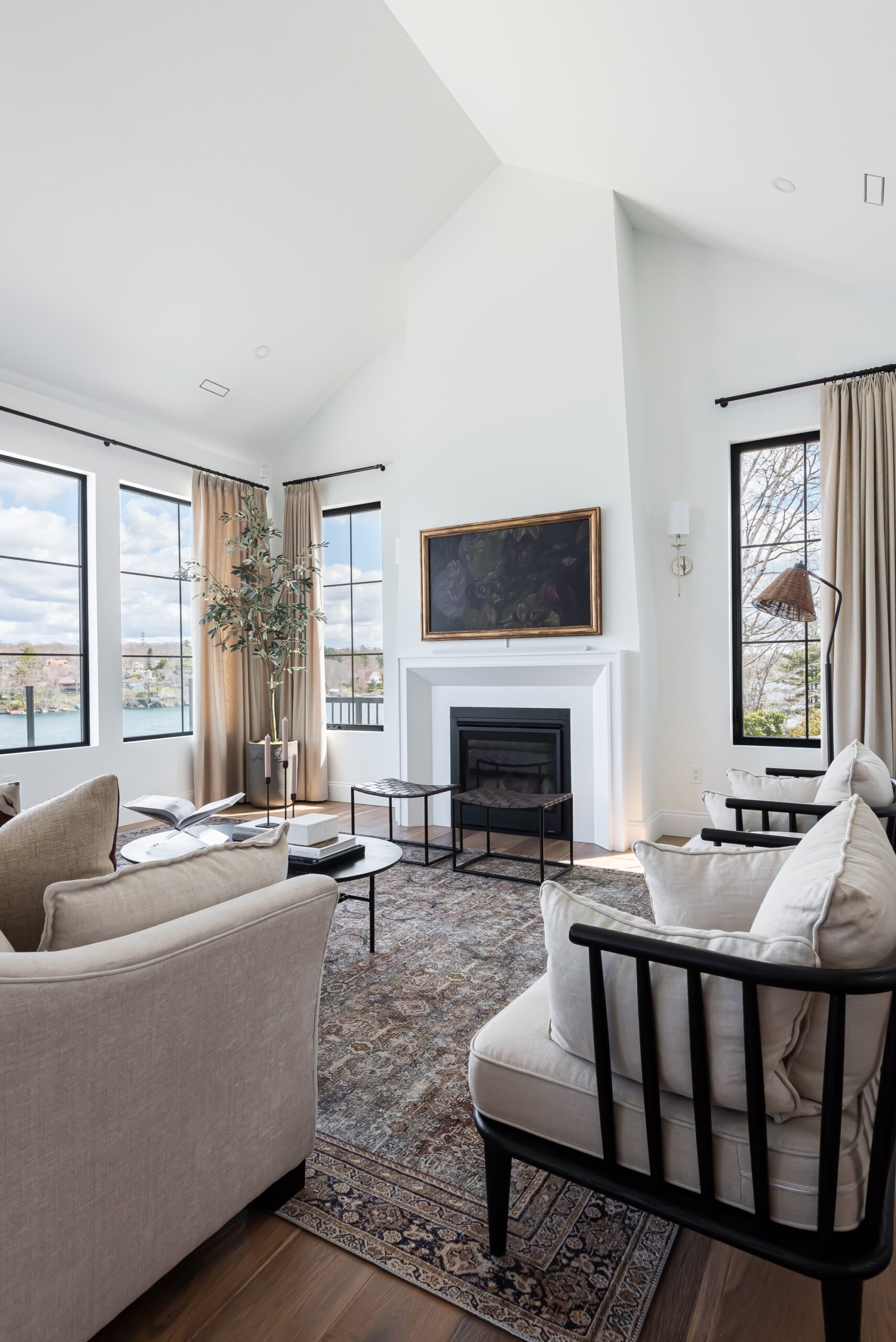 So, we asked all the brass and warm metals (which we have long loved in other projects) to step aside. The layered cool metals here just vibe so well against the raw, earthen interior palette. 
 After the fun of finishes, though, scale would reign, as we set out to create a home where the land and sea called the shots, and the views were the muse. To best utilize the lot's grade, the entry and main living level are on the top floor, and that includes a foyer, kitchen, dining, and great room with grand, vaulted ceilings to accommodate huge windows in the back. We couldn't not capitalize on that height, but soaring ceilings pose a soaring challenge of finding the right lighting to meet those proportions. Our star chandeliers had to be beautiful and BIG! 
First, the 20' barrel vaulted entry offered an enormous open, arched ceiling where most ceiling lights would be swallowed up, disappear, or cut off the curvy, watery flow of the space. HVL's Labra chandelier in white plaster (one of our favourite finishes!) hit all our high points. Creamy, textured plaster against our soft white walls promised subtle shadows rather than stark contrast to keep it from seeking all the attention despite the sheer size.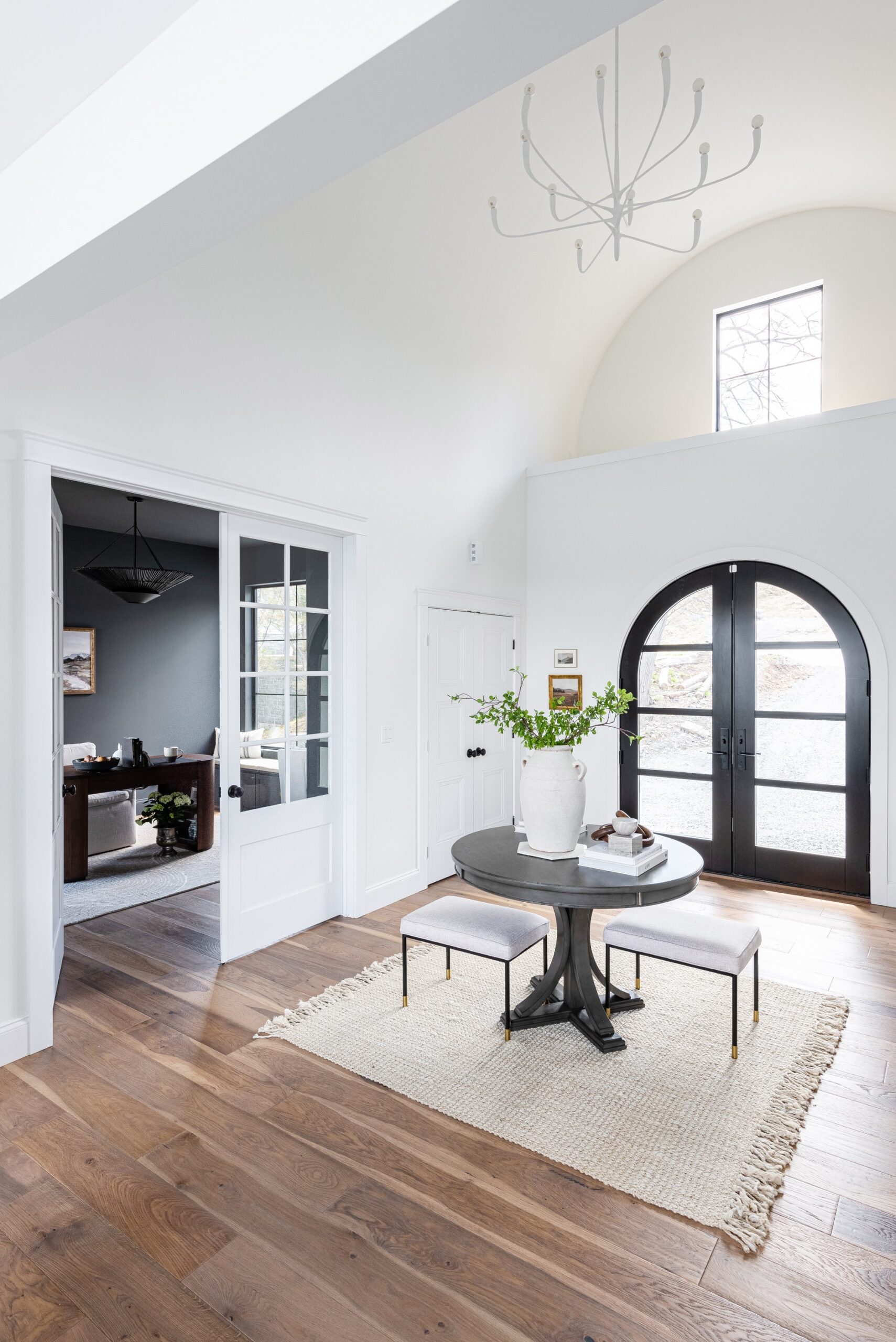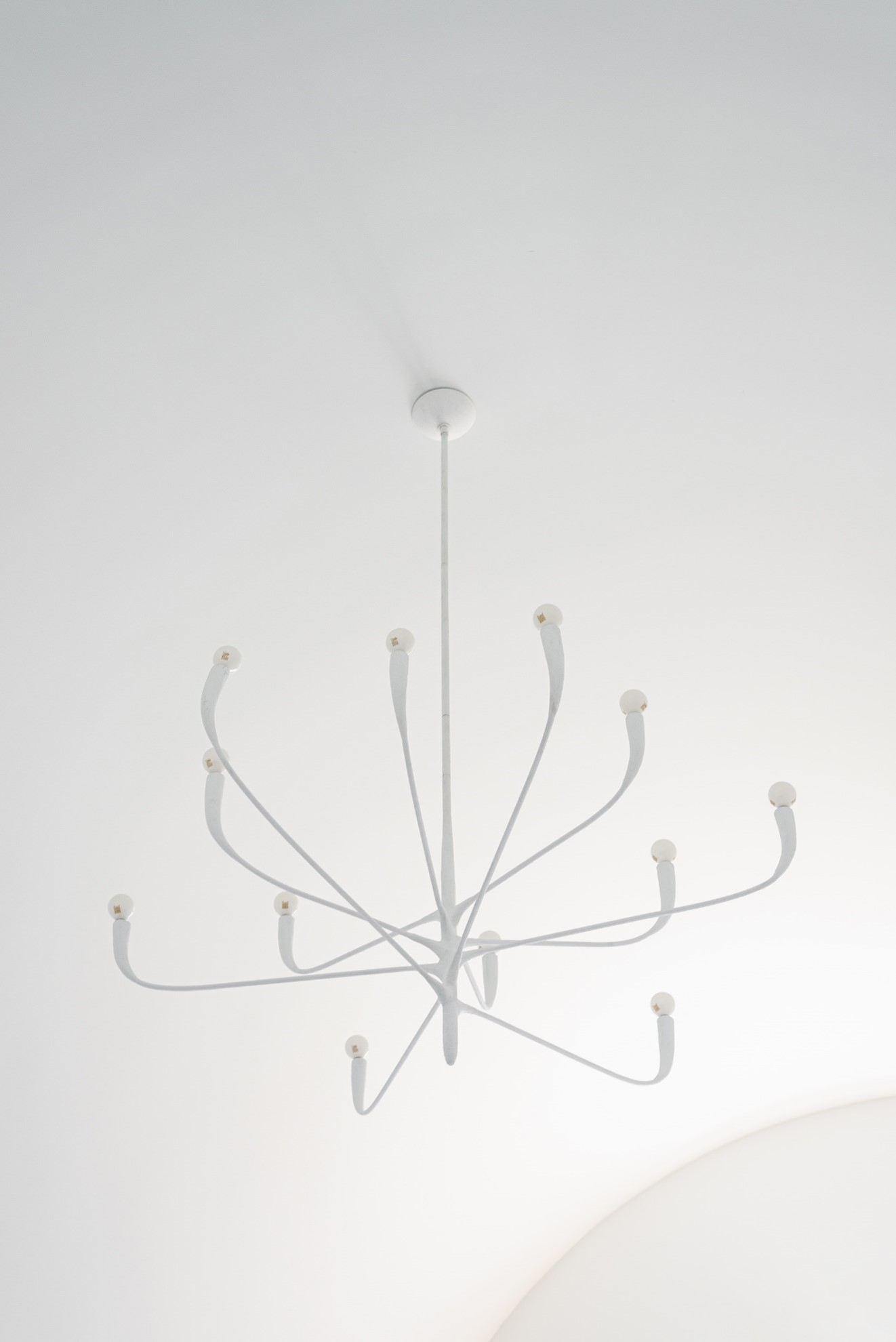 Five feet in diameter, with 12 bulbs and gorgeous organic lines, the majestic Labra was our first draft pick, and we followed our intuition with this one. Hudson Valley comes through again and again with dimensions and designs to suit larger homes and those with client-favoured high ceilings.
In the kitchen, we wanted to shake expectations by ditching over-island pendants. With the vault running straight through the kitchen, and an island also running in that direction, the sightlines would be dominated by the length of the cord or chain of lights hanging from the high point.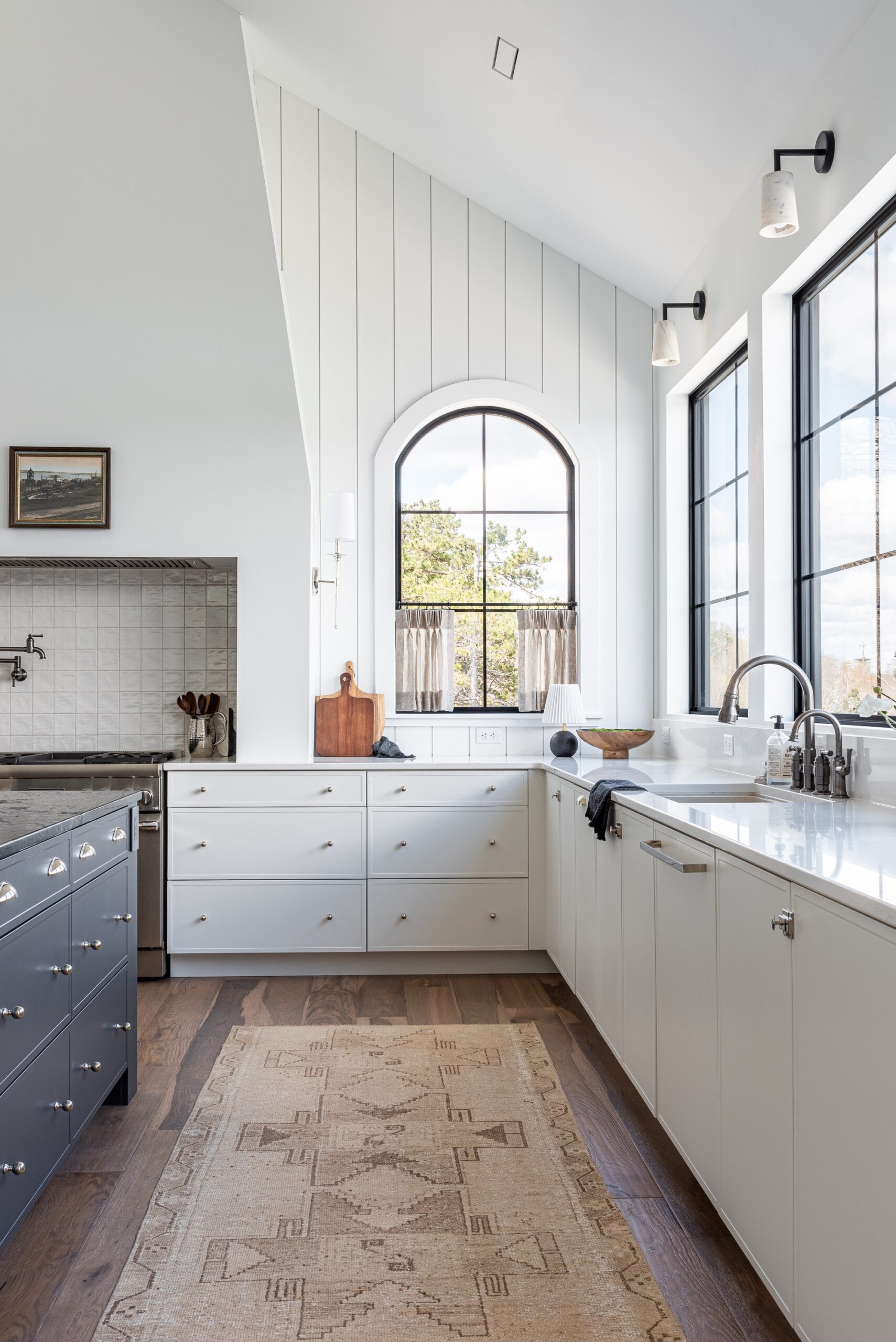 Good instincts are always in style. It felt right to stand by a concept that would promise to light the kitchen with the wildly abundant natural light, pot lights, and wall-mounted mood lighting instead of the typical pendants. This "constraint" didn't hurt. Rather, it made way for two lighting choices with winning visual outcomes:
A standout chandelier in the adjoined dining area. With its interesting vault-off-a-vault architecture, this space called for our next BIG superstar, and the London chandelier by Troy Lighting combined the femme, modern classic mood we loved with the scale the space so deserved.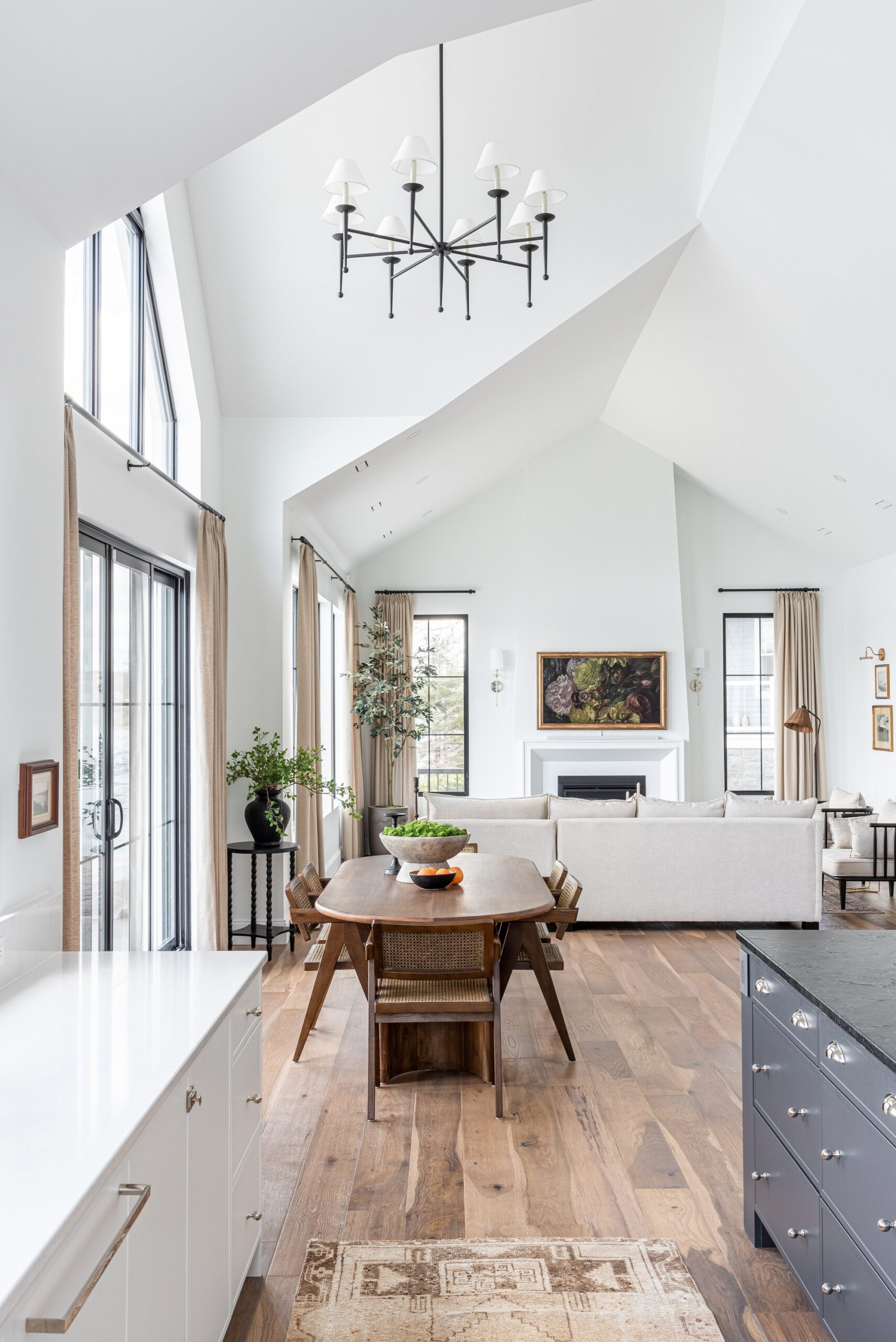 2. The unexpected placement of our Z-lite Emily sconces in Polished Nickel, having their moment facing outward from the enclosed range hood. At a glance, they're more subtle than noisy, and we love the delicate lines and white shades. They make a special wall even more special and they connect the living room space by appearing again flanking the fireplace, which mirrors the tapered shape of the range wall treatment. Another connection was made in the stairwell with the Z-Lite Emily chandelier from the same collection.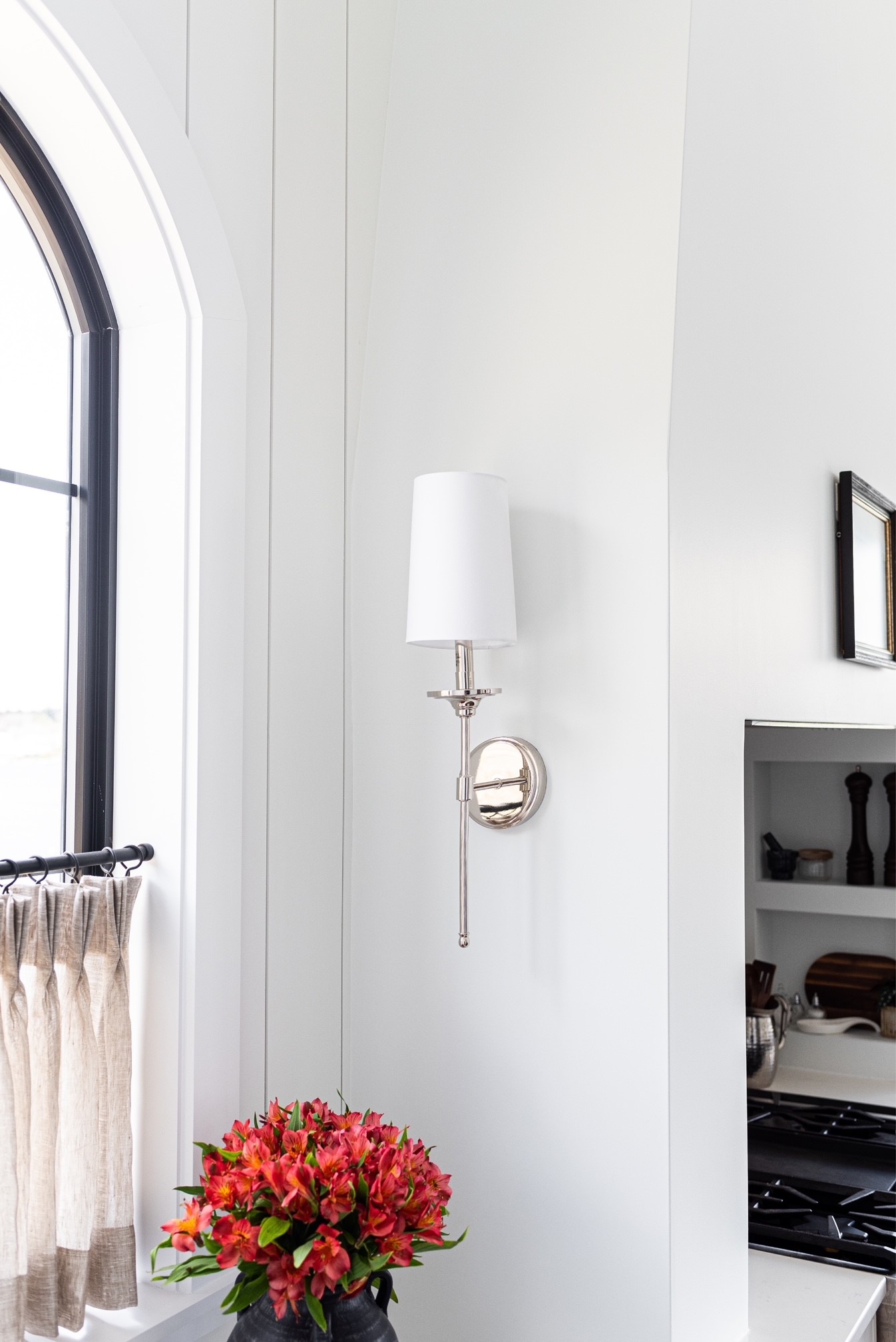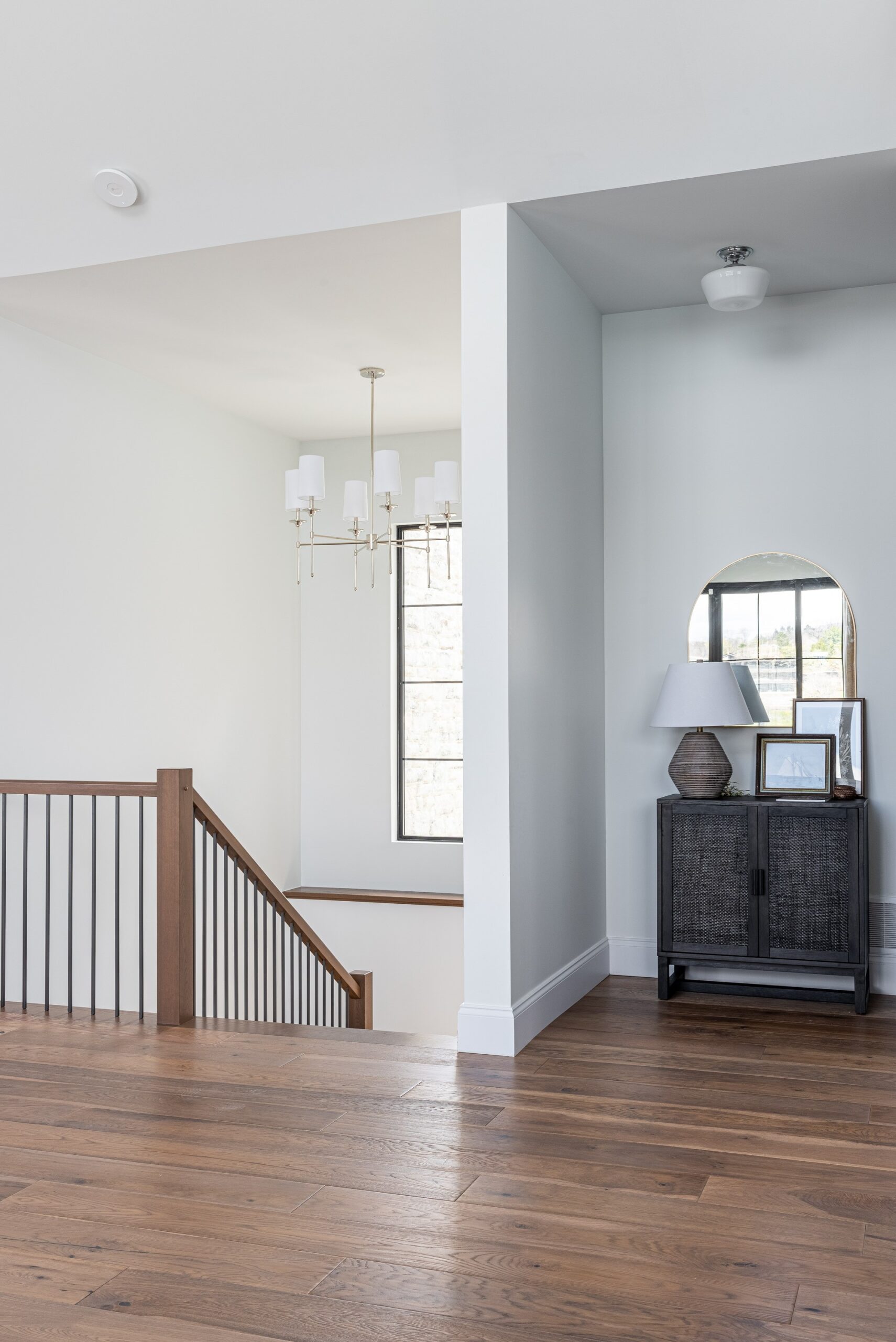 Before saying goodbye to this dream build, we step outside and take in an exterior that's more Belgian farmhouse (by the sea) than clichéd coastal. Our western-white stained wood vertical siding, over-grouted limestone-look veneer stone and arched entrance give a raw, but sophisticated welcome to our latest build.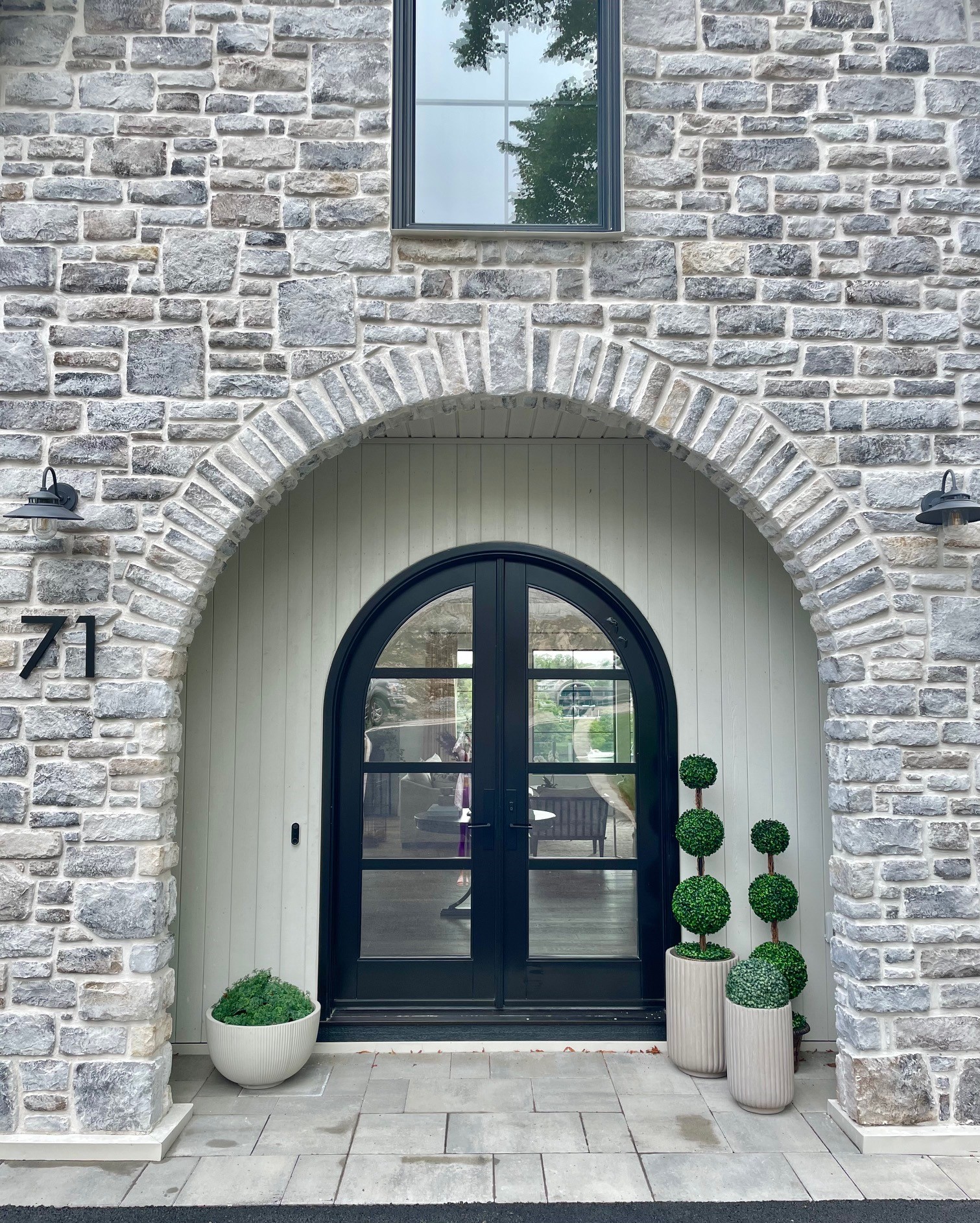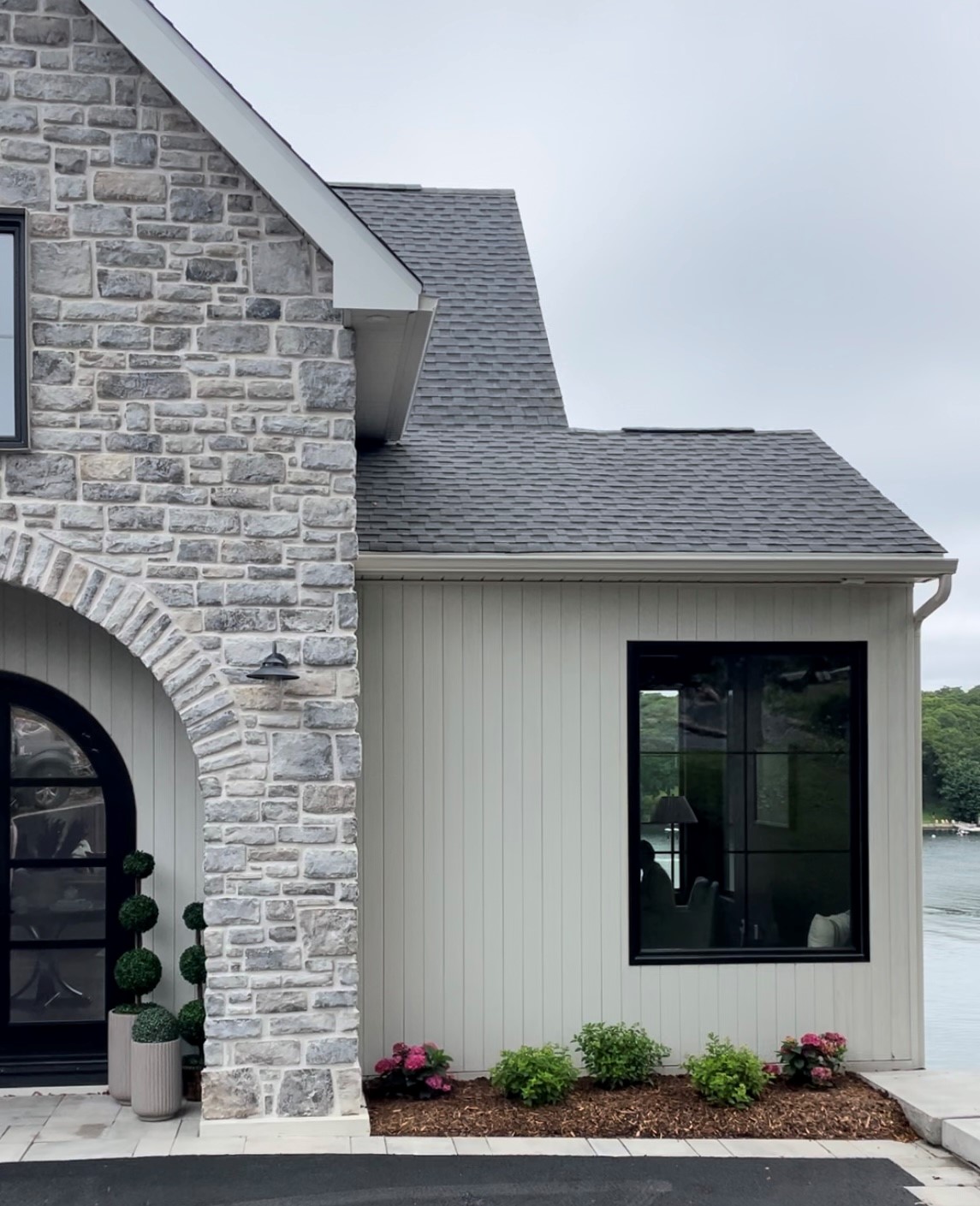 Hinkley's exterior lighting collection brought the heat as always, with the perfectly placed foursome of Atwell outdoor sconces in the most decadent Aged Zinc finish and a traditional industrial style. The curved neck plays well with our arched front door. They were love at first sight — again, the only choice.
Find all of these fixtures and more at Modern Komfort. Check out their Modern Lighting Collection online, or pop into their Fredericton store at 215 Main Street.