Designer Brittany MacLeod of MacLeod Homes shares the interior design trends for 2021 she thinks we'll be seeing everywhere.
Less cluttered spaces (less is more!)
I think it's safe to say we've all heard of the Marie Kondo method, and organizing your home isn't something new or out of the ordinary. However, with all of the time we've been spending in our homes this last year, I definitely see an even more minimalist approach to how we style our spaces taking over in 2021. When it comes to open kitchen shelves, I think we've seen a lot of decorative items on display, which can often deter people from having open shelving. Keeping things simple by incorporating just one or two aesthetic pieces with items we actually use on a daily basis – and then dressing it up with decorative accent lighting – is a way we can both maximize space in our home and still have it look picture perfect.
Interior Design Trends for 2021: My Favourite Wall Sconces

Fixtures from left to right: 1. Olivia by Mitzi 2. Julia by Mitzi 3. Lupe by Mitzi 4. Brooke by HVL 5. Garden City by HVL 6. Lorne by HVL 7. Garden City by HVL

Incorporating more pre-loved items into our homes
There are more DIY resources on the internet these days than ever before. And it's quite impressive how easily (and cheaply) you can elevate the look of a simple vase or old mirror with a little love and time (and who doesn't have a bit of extra time on their hands these days?).  I'm all about mixing the high with the low, especially when it comes to lighting and décor. Choosing a really great quality light fixture that improves our home (and mood!) is where I like to start, and then I prefer to save on the smaller décor pieces that can be thrifted or DIY-ed.

Vintage inspired lighting
Whether it's a mid-century flush mount, an aged looking stone lamp, or a brushed gold library light, vintage inspired lighting adds character to any home, and can even tell a story when paired with beautiful art.
Interior Design Trends for 2021: My Favourite Vintage Inspired Lights

Fixtures from left to right: 1. Alyssa by Mitzi 2. Ashleigh by Mitzi 3. Calabria by Troy 3. Reese by Troy 4. Decatur by HVL 5. Girard by HVL 6. Ace by Troy 7. Albertson by HVL 8. Paige by Mitzi

Interchangeable Art
For anyone looking to refresh their space on a budget, this is hands down one of my favourite ways to change the look of a room without breaking the bank. We're seeing so many new online digital print shops popping up, and I think we'll continue to see more of this in 2021. I love swapping out the art in my home, especially when it's shining under a timeless art light.
Interior Design Trends for 2021: My Favourite Art Lights
Fixtures from left to right: 1. Holly by Mitzi 2. Vernon by HVL 3. Ridgewood by HVL 4. Gaines by HVL 5. Woodbury by HVL

Say "Hello!" to warmer whites and "So long" to bright whites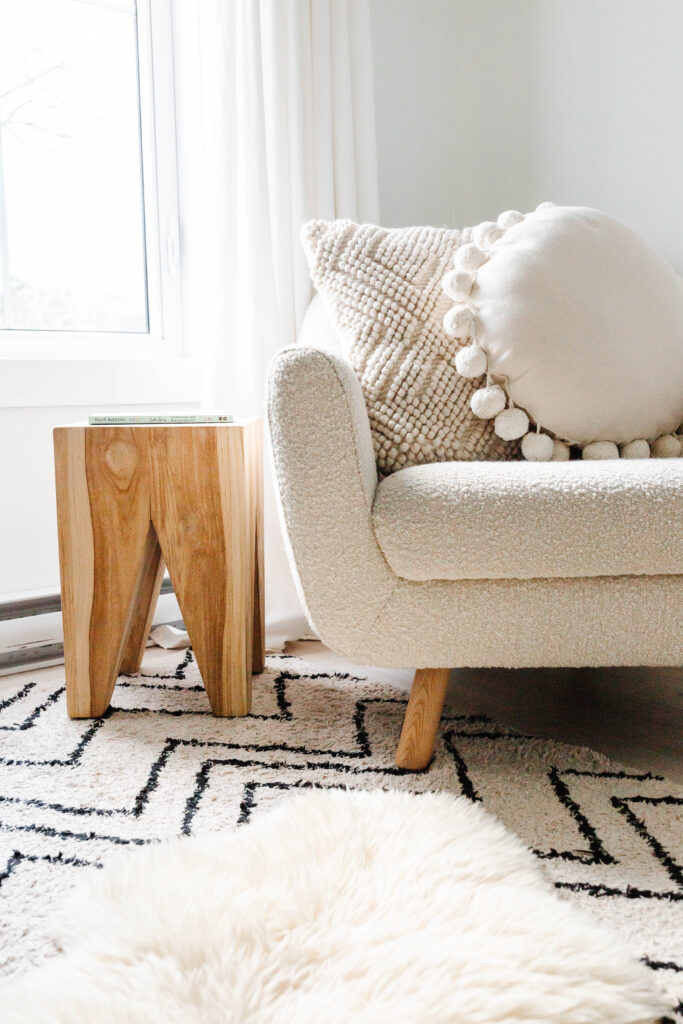 Whether it's the items on a shelf, or the shade of white on your wall, bright white spaces and more cozy cream tones that make you feel grounded and warm are definitely an interior design trend we'll be seeing in 2021.

Texture, texture, texture!
Texture is the name of the game, especially when we all want to feel cozier at home. When we updated this bedroom, we wanted something that felt really cozy and I knew that adding more texture to this space would give us what we were looking for. Incorporating things like natural shiplap or wainscoting, adding trim pieces to our IKEA dresser, tossing in some great throw blankets, and finishing it off with a gorgeous textured lamp really elevated the pre-existing blank wall.

Bringing nature inside
Keeping with the theme of being cozy in our homes, I think we can expect to see deep earthy colors like olive greens along with light wood accents. Whether it be through a piece of art, the color of your throw cushions and furniture, or something foraged, I'm predicting we'll see a lot more nature inspired spaces in 2021.
About The Author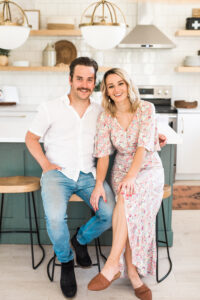 Brittany MacLeod is co-owner of MacLeod Homes, a Nova Scotia-based interior design firm. From working on new home builds to one room refreshes, her team offers everything from full service design to e-designs. Brittany is partnered in business with her husband, Tim, and they run their business with three small kids in tow. You can follow their life adventures and interior design journey at @macleodhomes_ and learn more about this design duo and the services they offer by visiting www.macleodhomes.ca. All styling and photography by Brittany MacLeod.
All Featured Fixtures in this story were personally selected by Brittany and then gifted by Hudson Valley Lighting Group.