This month, efficiencyPEI launched its brand new Solar Electric Rebate Program, making solar energy more affordable than ever for homeowners, businesses, and farms on the Island. A solar energy system offers a great financial return and allows homeowners to save money on their electric bills in the long run, but the start up costs can be limiting. Thanks to the new programs available, however, Islanders now have the support they need to get started with solar.
At the moment, there are both rebate and financing programs available, and you can take advantage of both.
First let's look at the Solar Electric Rebate Program.
Solar Electric Rebate Program
This program offers a rebate on new solar installations for both residential and commercial/farms. Funding for this program is set at $2 million, so it won't last forever. If you have been considering solar energy, now is the time to act before funding runs out. Nova Scotia has been offering a similar program, and due to the huge demand it received, the rebate return had to be decreased after a few months. We don't know how things will play out in PEI, but it's worth noting that the current rebate rates may go down in the future before funding runs out.
The following rebates are currently available:
Incentive Levels (Residential):
$1,000 per installed kilowatt. Or $1.00/W
Not to exceed 40% total of installed costs.
Not to exceed $10,000 for residential installations.
Expansions to existing systems apply.
Minimum system size of 1kW
Off grid systems do not apply.
Incentive Levels (Commercial/Farms):
$350 per installed kilowatt.
Not to exceed 40% total of installed costs.
Not to exceed $10,000 for commercial/farm installations.
Please note that applications and approval must be complete before anything is installed.
Solar Financing Program
In addition to the new rebate program, financing options are also available on solar installations. This is a huge win for both homeowners and businesses because the start-up costs for solar installations are one of the main barriers for adoption. PEI's solar financing program offers eligible applicants a repayable loan up to $25 000 towards 100% of invoiced costs. The loan has a fixed rate of 5% per year and is repayable over a period of 15 years.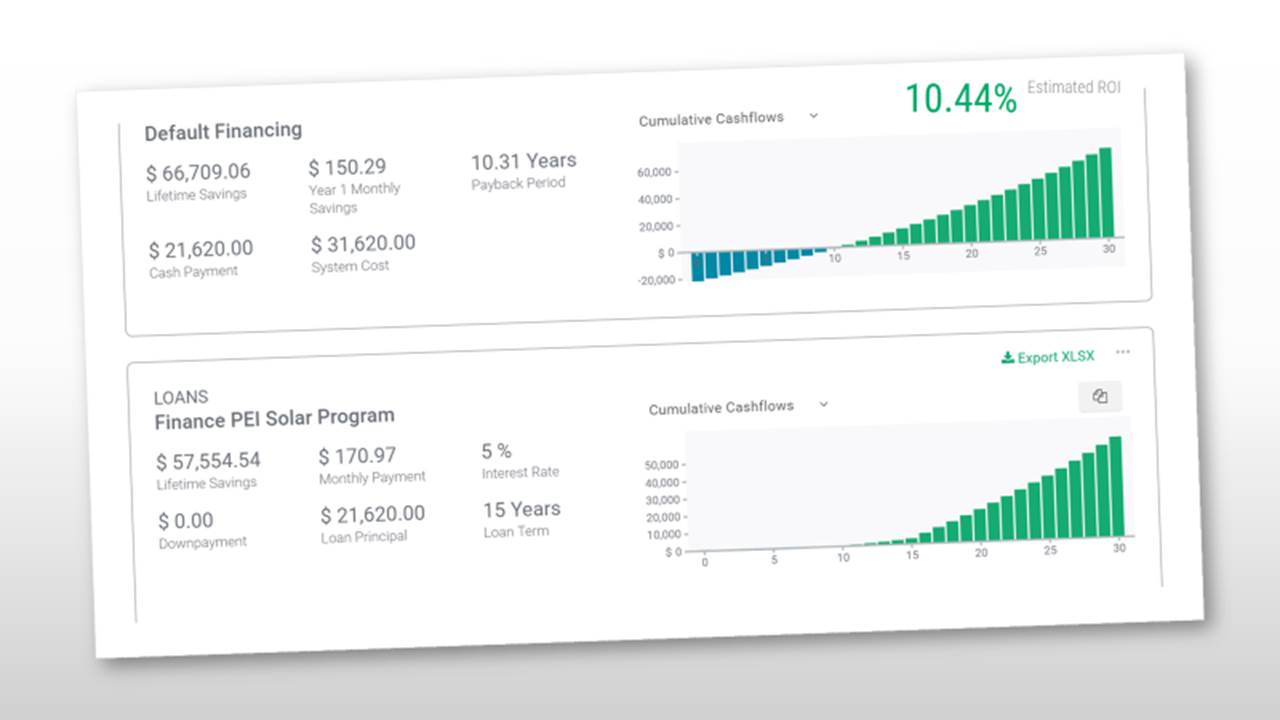 The financial benefits of going solar
The return on investment of a solar energy system is huge and offers value in a number of different ways, both in the short term and the long term. First of all, your power bill goes down since you are generating most of your own energy via a free source (the sun!).
This is one of the best investments a homeowner can make- the average return is over 10% which beats any historical stock, mututal fund or bond.
Second, you're protected from power bill hikes for the lifetime of your system (approximately 30 years). Overall, you're estimated to save over $53 000 during the lifetime of your system.
And finally, a solar system adds value to your home and is estimated to increase the value by a minimum of the cost of the solar system and as much as 20%.
At Catalyst, we're committed to supporting the adoption of solar energy throughout Atlantic Canada. One way we're doing this is by offering free solar energy assessments for all residents.
Simply fill out our form, and we'll get back to you within 48 hours with your customized solar report, which provides a cost estimate for your system.