With New Brunswick (N.B.) being the last Atlantic province to offer a provincial rebate on electric vehicles (EV) (announced early July), there are reasons to believe Atlantic Canada now stands poised to match the pace of provinces like Quebec and B.C. with our EV adoption and ultimately our net zero emission goal.
Before we dive in, I have to start by acknowledging it's great to see bipartisanism when it comes to climate change in the Atlantic Region. N.B.'s rebate makes it the second conservative government to offer an EV rebate with N.S. and N.L. offering rebates through their controlling liberal parties. Hopefully, this is the boost that N.B. needs, At the end of 2020, there were 646 EVs registered in the province, far short of the target of 2,500 set out in the Climate Action Plan. Hopefully, this incentive program will be the boost N.B. needs.
So, what do all the rebates look like for Atlantic Canadians? Let's start with an overview of each Province's EV rebates — spoiler alert — matched with the federal rebate, this now means if you live in Atlantic Canada and purchase an EV you are getting anywhere from $8-$10K back in rebates, which is significant when purchasing a vehicle!
Government of New Brunswick
Rebates are available to New Brunswickers who purchase or lease a new or used electric vehicle at a licensed automobile dealership in New Brunswick.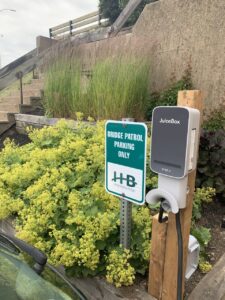 Incentives available include:
New Battery Electric Vehicle (BEV): $5,000
New long range Plug-in Hybrid Electric Vehicle (PHEV): $5,000
New short range PHEV: $2,500
Used BEV: $2,500
Used PHEV: $1,000
Electric Vehicle Home Charging Stations: $750 
Visit Plug-In NB for full details. 
Government of Prince Edward Island
The Government of Prince Edward Island is offering $5,000 to Islanders who purchase a new or used EV. Government will also offer $2,500 to those who buy a plug-in hybrid from April 1, 2021, onwards. 
In addition, Islanders who utilize the P.E.I. Universal EV Incentive (both BEV and PHEV) will receive a free Level 2 charger. Islanders will be responsible for all installation costs associated with charging infrastructure. More information and eligibility requirements can be found on the Government of P.E.I.'s website. 
Government of Nova Scotia
Nova Scotians may be eligible for rebates of $3,000 per new vehicle, $2,000 for used vehicles and $500 for e-bikes. Information on Nova Scotia's rebate program is available on the Clean Foundation's electric vehicle information website.
Government of Newfoundland and Labrador 
Drivers can receive incentives from $2,500 for shorter range plug-in hybrids to $5,000 for all-electric and longer-range plug-in hybrid electric vehicles. Visit Take Charge NL for more on the available incentives.
So, what does this mean for the Electrical Industry in Atlantic Canada? 
With our incentives starting to match the more mature EV rebates in other provinces, follow me through some simple math to see why Atlantic Canada has a strong chance of catching up to the rest of the country: 
British Columbia had the largest EV market share at 8.4 per cent of new vehicle sales last year. B.C.'s mean income per household sits at $87,600, nearly $10,000 more than the average Atlantic Canadian household at $79,175. This is important because we know that EV's are still a luxury vehicle for the most part. With the Average 400KM range vehicle being over $50K by the time you drive it off the lot. 
So, with Atlantic Canada's EV rebate matching B.C. (and B.C.'s adoption rate being 8.3 per cent with an average household income of 10% more than their eastern counterparts) it's safe to expect a 7.47% adoption rate in Atlantic Canada in the next year.
Based on what we're already seeing, and if this math holds true, that would be a total of 8,140 new electric vehicles on the road in Atlantic Canada by 2023 and every one of them most likely having a home charger to support them. This is In addition to the 2,000-4,000 Level 2 publicly available commercial chargers needed at places like office buildings, retail locations and curbside parking.
You may be asking yourself, what if we are wrong and the adoption doesn't happen that quickly? It's hard for someone like me to imagine that, but let's say the east coast adoption rate is slower than expected —  based on the federal government's new target of 100% EV sales of new vehicles by 2030 alone — I'm still seeing the numbers point in the right direction.
The future for electrification looks bright in Atlantic Canada
Based on what we've seen in other provinces, and Atlantic Canada's new direction based on all four provinces now offering EV rebates, over the next 15 years, we could see more than ¼ billion spent on EV chargers for home and commercial use in our four provinces.  
This kind of infrastructure is a game-changer and it's already happening. For proof, look no further than Halifax Regional Municipality and the recent announcement that the Halifax Transit fleet will be getting 60 battery-powered electric buses as part of a $112-million agreement with the provincial and federal governments.
Related Links:
The electric vehicle revolution is here and it's growing quickly. If you want to find out about electric vehicle infrastructure and chargers for public spaces, workplaces, commercial fleets, multi-unit residential buildings and more, get in touch. 
We've got you covered and want nothing more than to see Atlantic Canada out-pace the rest of the country in terms of our EV adoption. 
Email [email protected].