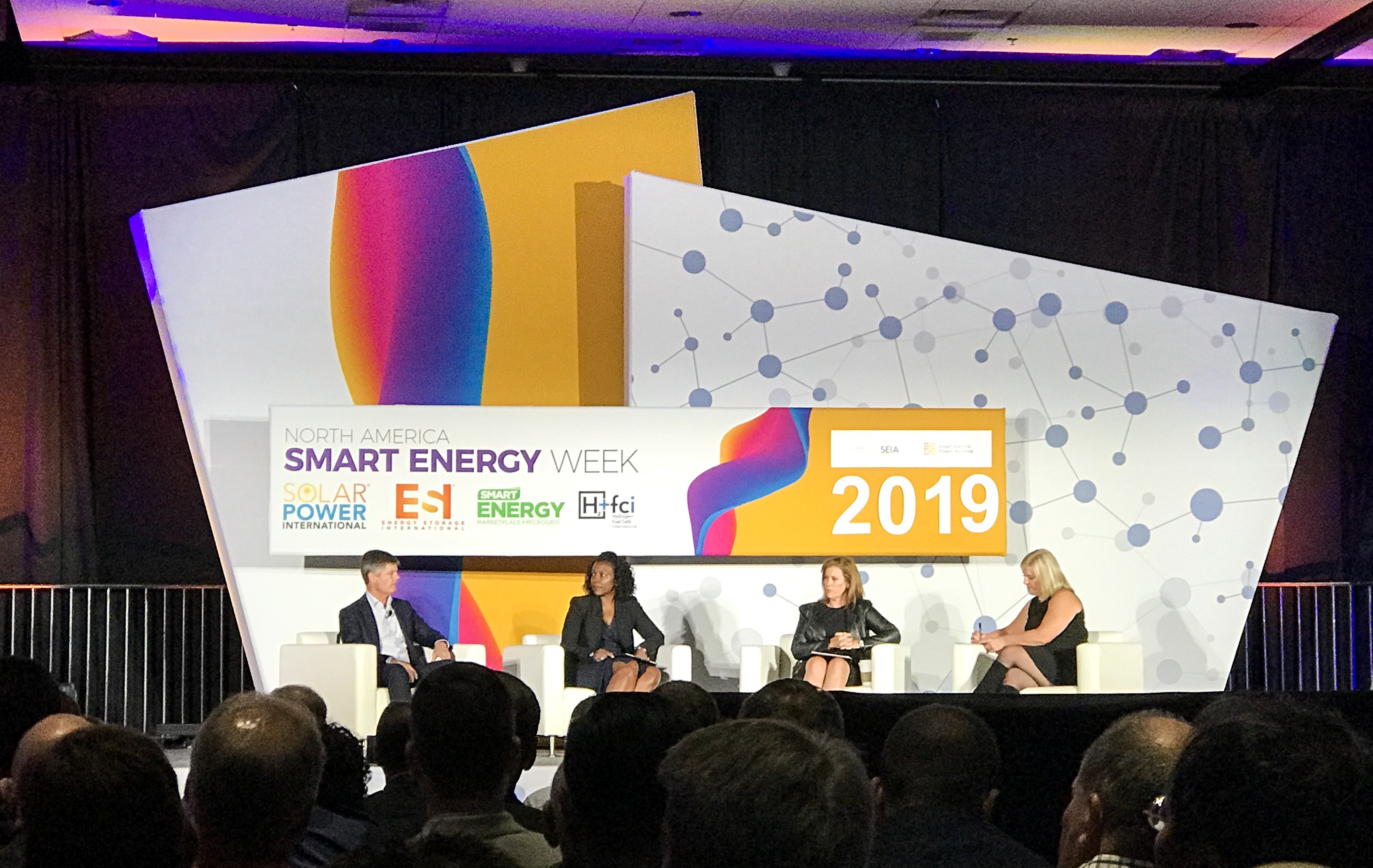 As you may have seen on our LinkedIn and Instagram, our team was down at Solar Power International's (SPI) Smart Energy Week in Salt Lake City last week. It was an action-packed week, and we got the opportunity to connect with industry leaders and fellow renewable energy enthusiasts and learn about the latest industry trends, product development, and marketplace shifts. The renewable industry is starting to take off here in Atlantic Canada, and we're so excited about the new innovations and what they will mean for our distributors, contractors, homeowners, and our region as a whole.
Our renewable lines, Canadian Solar, SolarEdge, Kinetic, and AP Systems were all in attendance as well. You can learn more about our lines here.
Among the many exciting trends and product developments, three really stood out.
ELECTRIC VEHICLE CHARGERS
First, we identified electric vehicle chargers that will work for both commercial and residential spaces. We believe that this will mark a huge step in helping our customer base make the pivot towards global electrification. Not only can EV chargers offer vehicle charging for both home and work, but with WIFI capabilities and partners like EVMatch, the home and business owner can actually rent out their chargers while they are not in use and get paid directly through on-demand services like EVMatch.
Take a look at some of our favourites:

Left to right: JuiceBox Pro 32, 40,or 75 (must be WiFi-enabled), ClipperCreek HCS-40, JuiceNet Edition, AeroVironment EVSE-RS, JuiceNet Edition
ELECTRIC GENERATORS
Second, something that is especially exciting in the wake of last month's Hurricane Dorian, was the emergence of electric generators. These generators will eliminate the need for gas powered generators and will be a huge asset for homeowners and during power outages.
A few of our favourites:
Left to right: Goal Zero Yeti 1250 Portable Power Station, Lion Safari LT Power Generator
BATTERY STORAGE
Last, and most importantly, was the battery storage, which has significant applications for NS. Currently, with grid tied net metering programs making it cost prohibitive to have battery storage, few companies are offering practical solutions for batteries paired with solar. However, this option offers major benefits, like having back-up power from your batteries when power is out.
Customers can also charge their batteries at night during off peak (low cost power) times and then consume/back feed the power during the day during peak (high cost power) times. Another financial benefit of battery storage, and what we will see most commonly from their implementation in Atlantic Canada, is demand side load management. This allows power companies to buy power from your stored batteries when they need it to match shifts in demand. With a central control system from the utility and a compatible battery system, this is already an emerging trend in some markets.
Two manufacturers who really stood out were SolarEdge and their StorEdge Solutions, and Sonnen Group.
---
These are just a few of the many new developments in the renewable energy landscape. There has never been a better time to make the switch to solar energy, and we've committed ourselves to helping to grow and support the solar energy industry in Atlantic Canada. You can learn more about our solar energy services here.
For homeowners, we're offering free solar energy assessments for your home. Simply fill out our form, and we'll get back to you within 48 hours with your full report and connect you to a local contractor in your area.
For distributors, we rep four of the top solar lines on the market. You can learn more about the lines here.
Our week at SPI confirmed what we already knew- the future is solar, and we're thrilled to be playing a role in supporting this future.
To learn more about the exhibition, you can visit the SPI website, and to learn more about our involvement in solar energy, visit our solar page here.